Social Rocket Features
Just some of the amazing things you can do!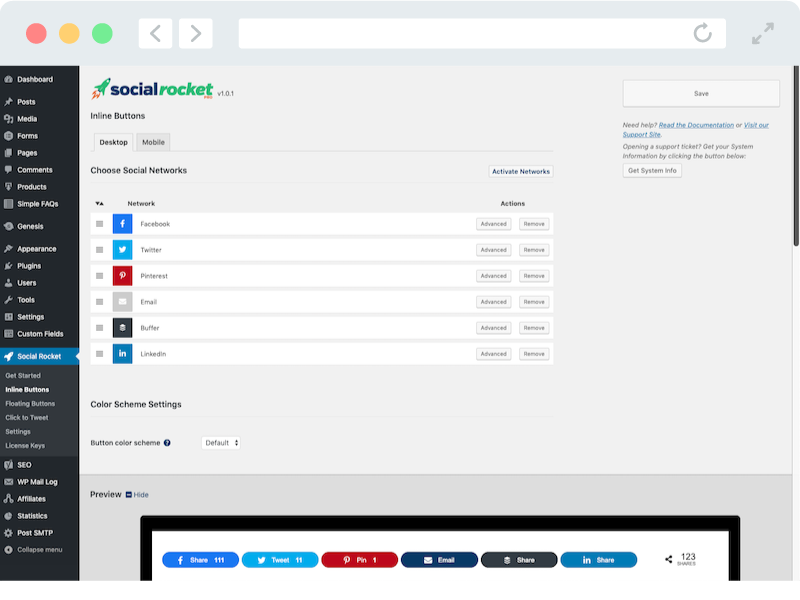 Inline sharing buttons
Add horizontal inline buttons to your post and page content. Want to turn off the buttons for certain pages, post, archives, or custom post types? Customize the colors and shape? Display a heading above the buttons? No problem! Pro users can choose completely different settings and buttons on desktop vs. mobile.
Floating sharing buttons
Place floating share buttons on the left or right side of the screen, or along the top/bottom in a bar. You decide exactly where the buttons display and how they should look. Pro users can choose completely different settings and buttons on desktop vs. mobile.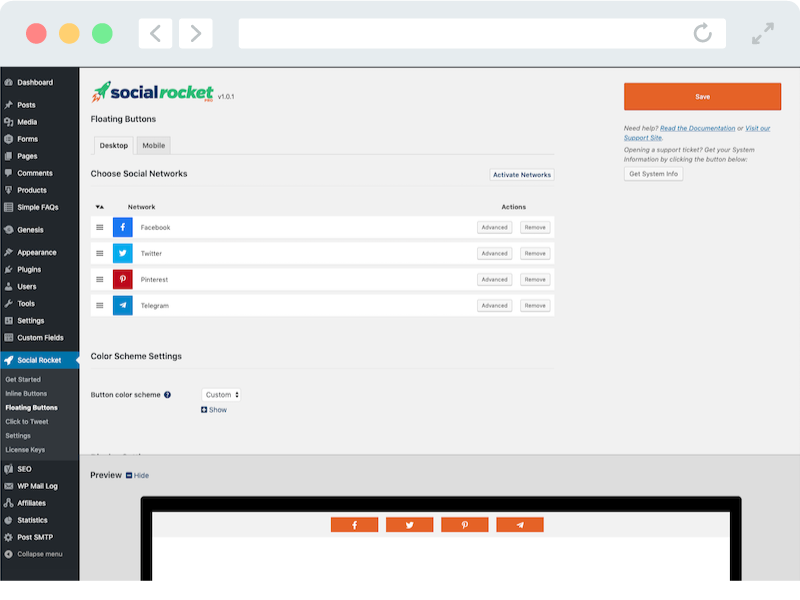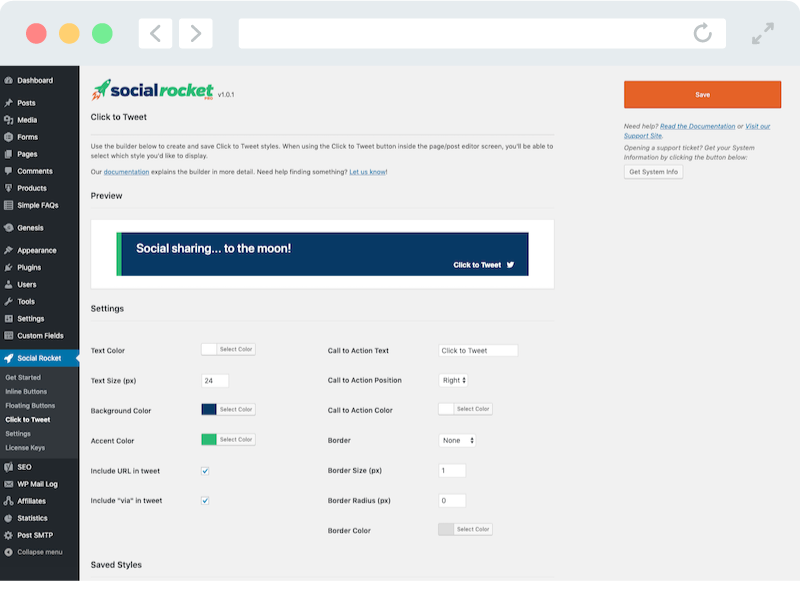 Click-to-Tweet Builder
Insert customized Click to Tweet links in your post and page content. Our builder allows you to create custom color schemes and styles, which you can save and use in your content to make the Click to Tweet match your branding.
Share Count Rescue (PRO)
If you've changed your URLs in any way, Share Count Rescue can retrieve your previous counts and add them to your current ones – even if you made multiple changes. Our intuitive settings page will ensure Social Rocket looks for all possible share counts and combines them together.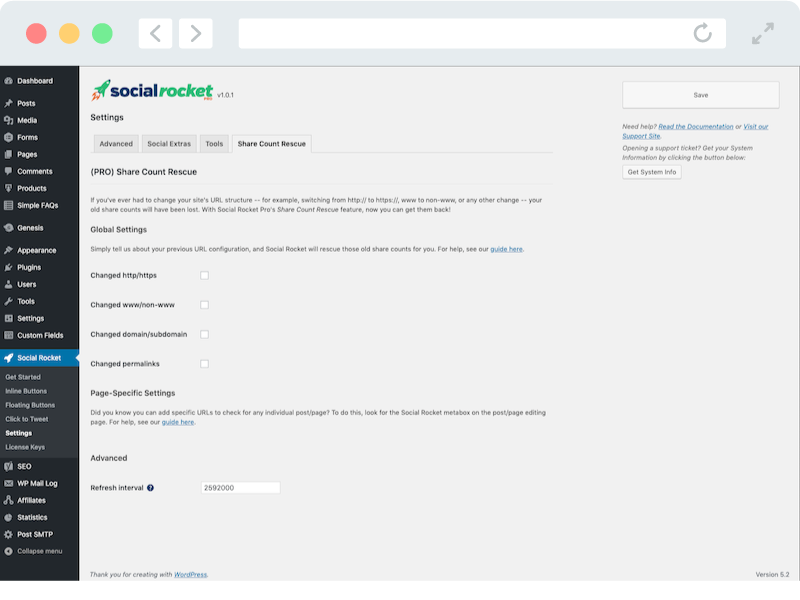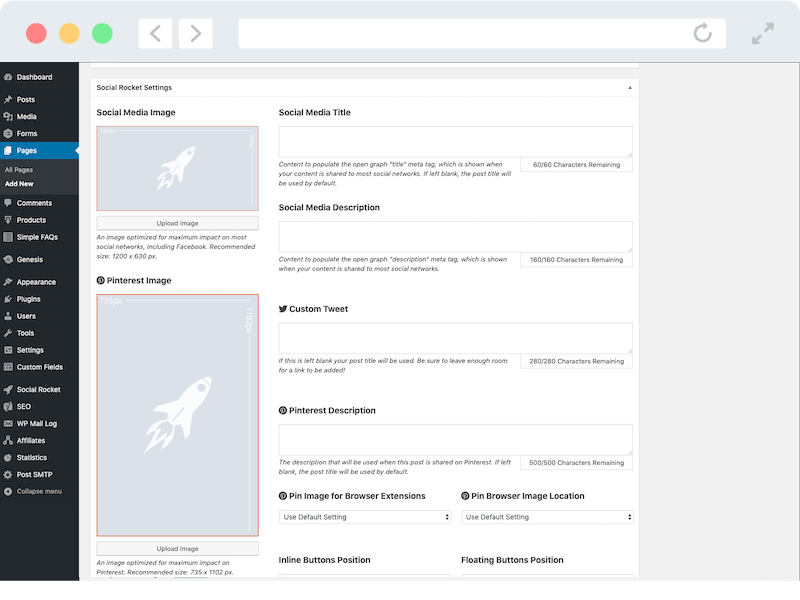 Post and page settings
The free version of Social Rocket (yes, you read that right) allows you to set custom images, descriptions, and titles to be used when someone shares your content on social media. Control exactly how your story is told and how it looks when someone shares. Social Rocket Pro users can upload multiple hidden Pinterest images!
Ready to send your social shares into orbit?
Additional Features
Oh yeah, there's even more!
Migrator
Use our Migrator extension to bring over your custom images and descriptions from Social Pug, Social Warfare, and MashShare
Share your archives
If you want to share a portfolio, store page, or other archive as the page itself, Social Rocket can handle that!
Network choices
Social Rocket core offers 9 social networks, while Social Rocket Pro adds 26 others (including a More button).
Bitly link shortening (PRO)
Use Bitly links ONLY for the networks you choose - Social Rocket won't generate short links you don't need.
FontAwesome icons
We use the familiar FontAwesome library for our icons. Already loading FontAwesome on your site? Tell Social Rocket not to load it again.
Twitter Counts (PRO)
Twitter took our counts away, but Social Rocket will help you get them back! Display your Twitter counts using either Open Share Count or TwitCount.
Import and export settings
Want to use the same settings on another site? Use our import and export features to quickly set up a new site just like your old one!
Backup and restore
Social Rocket makes a backup of all your settings and custom data before every update. You can also take a backup anytime you'd like, just to make sure nothing gets lost.
Multiple hidden Pinterest images (PRO)
Add multiple hidden pins to your posts and pages with no HTML code required!
Works with Thrive
If you use Thrive's page builder, Social Rocket's buttons will work correctly on your Thrive pages!
Affiliate program
Get rewarded for promoting Social Rocket! Our affiliates earn 30% commission, even on annual renewals, with higher rates available for active affiliates.
Actively developed and supported
We are in it for the long haul - our users aren't just numbers to us! We are happy to help with any questions and always working on new features to keep Social Rocket awesome.